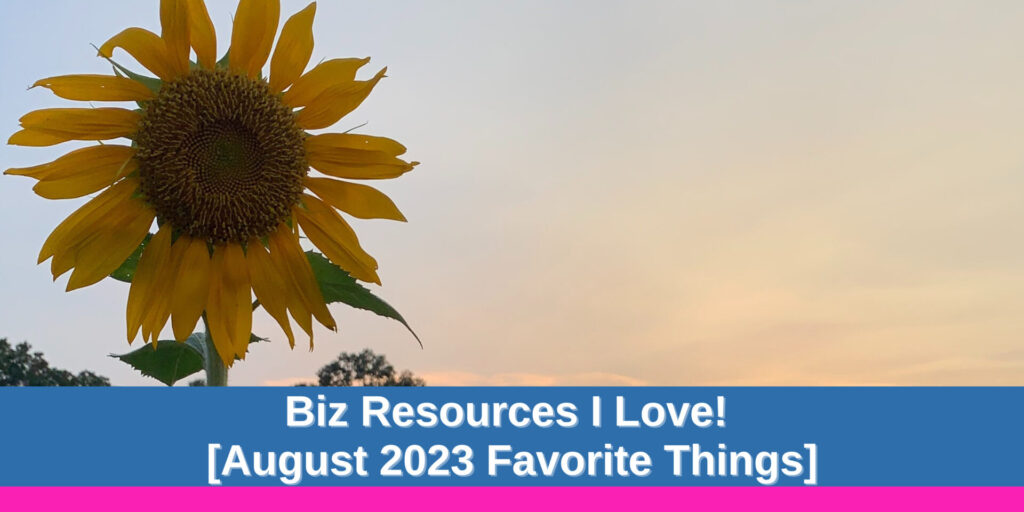 I'm back with my monthly "Favorite Things" post to share with you for August. If you're new around here, I also want to say a big WELCOME! And secondly, know that this post is a monthly glimpse into what I'm doing and buying for my own business.

As always, I hope you'll enjoy reading through this post, and will take time to check out all the resources available to you!
Favorite Business Resources
🖤 MEMBERVAULT 44 DAY FREE TRIAL
Did you know you can get a 44 day free trial of MemberVault if you sign up by Aug 31st? I use and love MemberVault for my template shop, and can't recommend them highly enough. 🙌 Sign up for the extended trial at https://membervault.co.
🖤 XOXO TEMPLATES – 40% OFF THIS WEEK ONLY!
My friend, colleague, and VIP Day client Sidneyeve of XOXO Templates is hosting a 40% off End of Summer Sale on her gorgeous Canva templates!
Here's just some of the templates you can find in Sidneyeve's shop for 40% off:
☀️ Course Roadmap Diagrams: Make it easy for us to get excited about what lies ahead!
☀️ Warm Welcome Slides: Encourage a feeling of belongingness and help newbies get oriented!
☀️ Creative Course Workbook: active learning for the win! 20 different checklists, journals, trackers to boost engagement!
Check out more templates and shop the 40% off ☀️End of Summer Sale here 🛒💕
🖤 MISC. BUSINESS RESOURCES I AM LOVING
This $9 strategy has now made me over $1000 the past few months and has been my favorite purchase of 2023 so far.
Need to set a budget for yourself? You need this template.
Don't have a freebie set up? You might not need one to grow your list… Read more here.
Want to run a flash sale on any of your digital products? This toolbox has exactly what you need.
>> Shop Elizabeth's Everything Page here.
🖤 A LITTLE EXTRA MOOLAH
Last week on my business anniversary I announced a new digital product: a little extra moolah. This is a PDF download where I'm sharing 3 simple ways I use affiliate marketing in my own business to earn between $200 and $500 per month. Check it out here – it also includes a list of 35+ affiliate programs you can join TODAY!
🖤 AFFILIATE PROGRAM TEMPLATE SHOP
Want to know how to pitch potential affiliate partners so that they say YES to partnering with you? You need this template.
Already have affiliate partners? You need to be emailing them a newsletter every month. Grab these templates to make this easy peasy.
Recently on the blog I shared about my favorite moments from the Ultimate Product Party… Go here to read about this awesome event.
> > > Shop all the templates I have available here.
** Please note – this post contains affiliate links, but I only recommend products and resources I use and can vouch for myself!