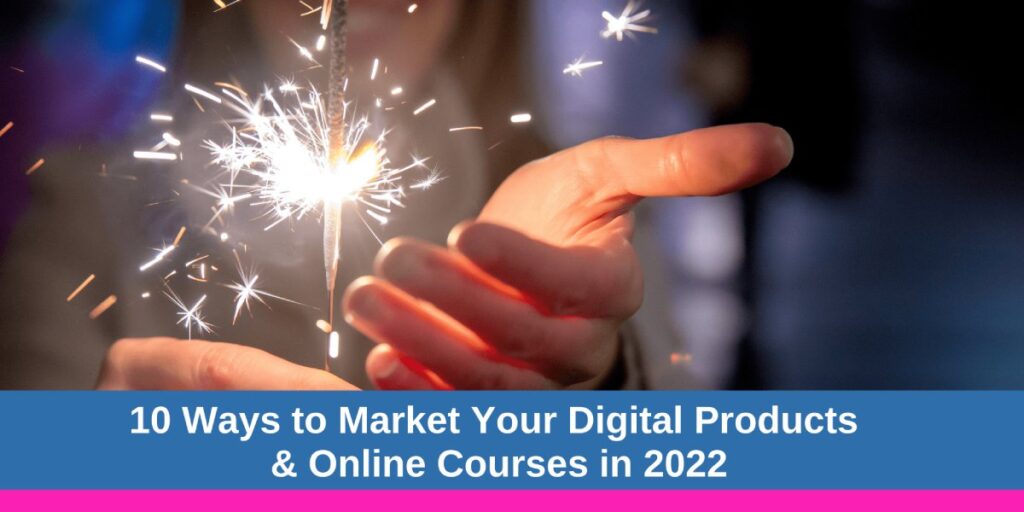 10 Ideas to Help You Serve More People By Selling More Products!
If you have an amazing digital product, such as an ebook, a mini-training, templates, digital planners, online courses or an online membership, you'll want to read through this blog post for the helpful tips and strategies I am sharing!
Below is part 2 where I'm diving into ways 6 – 10 on how to market your digital products or online courses PLUS some resources that go along with each suggestion.
Let me know which marketing tip you'll be trying out!
6.

Work with Affiliate Partners
You probably already assumed I was going to say this (I mean, this is CreateYourAffiliateProgram.com, after all). Y'all know my favorite way to make more sales of your digital products or online course is to work with affiliates.
When you partner with an affiliate, you can leverage their audience to grow your own list which will lead to more sales of your digital product or online course.
Instead of having your affiliates promote your digital program or course directly, I suggest having your affiliates promote your free offer so that you can get their people onto your list, warm them up with your amazing content, and then pitch your product or course to them after you've shown them that they need it through your sales funnel..
In order to do this, you need to get your affiliate tracking software set up.
While there are some costly affiliate program software programs out there, it doesn't have to cost a fortune for you to set yours up *and* it also doesn't have to take a lot of time either.
I get asked a lot what the best affiliate tracking software out there is. And the truth is, there are a lot of amazing affiliate platforms out there. But here at CYAP, I believe in keeping things super simple and cost effective.
So, with that said, LeadDyno is one of my favorite affiliate program software to recommend. You can check them out through my affiliate link here to see all of their cool features here.
I also am really loving ThriveCart lately… I'm considering switching my own checkout process to ThriveCart, in fact, because I've been so impressed with it for affiliate programs that I am in.
Once you get your affiliate tracking software up, there are a few other things you want to make sure you have set up, such as…
Deciding on how much you'll pay your affiliates
Putting together an amazing affiliate promo packet
How to connect with your dream affiliate partners
What to do when you're ready to launch
Recommend Resources: I cover all things affiliate programs inside of The Profitable Affiliate Program How-To Guide that you can grab here: https://createyouraffiliateprogram.com/guide
Tell me… Will you be setting up your own affiliate program? I'd love to know!
7.

Pinterest Marketing
I've been slowly but surely diving into Pinterest marketing to help spread the word about my affiliate program templates and mini-training.
I am not a Pinterest expert even in the slightest, but I do know that it is helping me market my own digital products better.
If Pinterest marketing is something you want to dive into, check out my Recommended Resource below to learn how to create pins that convert and grow your audience!
(Side note: One of my most popular pins actually isn't for my own product… It's a pin I did for Amanda Genther's Sales Page in a Day using my affiliate link… So while it's not my digital product, it is *a* digital product that I make money from. 🙂 )
Recommended Resource: Learn how to grow your audience & attract perfect-fit coaching clients – using Pinterest! Jana with Pinterest with Purpose has all the good info you need!
8.

Be a Guest on Summits
I was a guest on the Rebel Bosses Summit (hosted by @edenfreid) earlier this year, and OMGosh, it was amazing to participate, I was able to earn some commissions for promoting it *and* I grew my own audience and sold products as a result of being on her Rebel Boss Summit!
I cannot recommend being a speaker for Summits highly enough!
How to be a speaker on summits:
Eden had asked me to be a speaker for her summit after we had recorded a podcast episode together, however, I've seen summit hosts who also put out applications for people to apply to be speakers. So think about what summits your ideal audience members are attending… And then research when the summits are held, what their speaker application process is, and then mark it on your calendar to apply!
Have you been a speaker for a Summit before? Tell me about it… I'd love to hear!
💓
PS: Hosting a Summit is also a good way to grow your audience and make more sales; for this, I recommend you check out Krista's @summitinabox offering! Krista is the go to expert on summits!
9.

Be a Guest Expert for Other's Programs/Memberships
One of my favorite ways that I have grown my visibility for my Affiliate Program Templates + mini-trainings is by being a guest expert in other people's paid programs and memberships.
How to figure out who to be a guest expert for:
Think about those in your existing network who are running group programs or monthly memberships where your unique expertise would make a great fit for you do a free training for their audience. Those are the people you'll want to pitch first, as they are most likely already familiar with you and your work, and so it won't be a "hard sell" to them.
You won't typically receive any financial compensation besides exposure to their audience for being a guest expert, so make sure that they are okay with you promoting your free or paid offer at the end of the guest expert training you do for them.
I encourage you to brainstorm 3-5 people you can reach out to this week to see about being a guest expert in their program or membership.
Leave me an emoji below if you'll be trying this strategy out! 👇
💓
PS: Looking for a guest expert for your program or membership on affiliate programs? Contact me… I'm happy to chat! 😀
10. Send a Consistent Email Newsletter
This tip is to not only create an email newsletter, but then CONSISTENTLY email your list each week! (I know sending an email newsletter might seem super obvious, but it's the consistency part most people miss out. I know I have in the past!)
For me, I make sure to email my list weekly, and my aim is to provide good content and maybe put a few applicable affiliate links in there if it makes sense for what I'm talking about. I aim to always send my newsletter between Tuesday and Thursday of each week.
Recommended Resource:
If you have no clue what you would email your list about consistently, you might want to check out @gemmabonhamcarter's 52 Prompts list! Go to the link in her bio or DM and I can send it to you directly. I found this really helpful when I was brainstorming out my newsletter content for this quarter!
Tell me… Do you email your list consistently? Or will you be committing to that from today forward? Drop me a comment below. 👇
Did you enjoy this series? I hope so – I have loved hearing from those of you who have reached out!