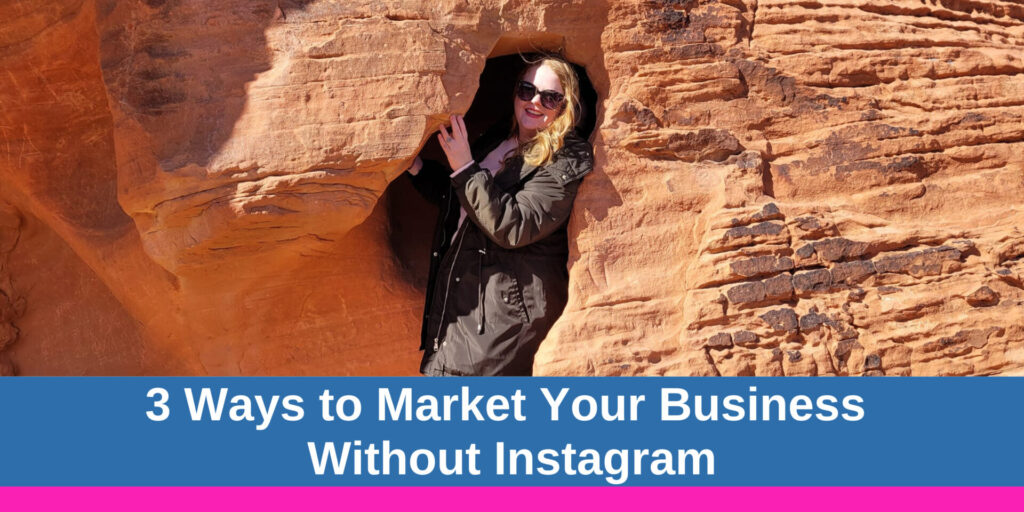 There are a million ways to market your business, and a big part of that is using social media sites like Instagram and Facebook.
But what if you could market your business using LESS social media?
The good news is, you can.
While I am on both IG and FB and promote my business there, I want to give you a sneak peek of the three things I am doing to market my own business in 2023 that DO NOT involve Instagram or Facebook that also drive traffic to my business.
Curious what they are? Keep reading!
📌 Use Pinterest to Drive Traffic to Your Website
I love Pinterest for personal use: finding new recipes, looking up travel itineraries for my upcoming trips, and for home decorating ideas. But after 2 months of focusing on using it to grow my business and send more traffic to my website, I am also loving it because it's the 4th biggest traffic driver to my website according to my analytics!
If you're looking to get your Pinterest foundations in place, check out this super low-cost Pinning Foundations course from Karrie Marie.
👭 Partner with Affiliates to Make More Sales
Okay, so this one probably isn't a surprise. But, when you partner with affiliates to promote your products and courses, you aren't having to show up on Instagram – the affiliate is the one doing the promo to drive traffic to your free opt ins and offers. During my launches, and even in between launches, affiliates drove upwards of 22% of my sales last year, and so I am excited to expand upon that this year.
In March, I'll be hosting a workshop called Products & Partnerships to show you how to do a 5-day Flash Sale working with affiliate partners if this is something that interests you. You can check out the details and register early now; I'll also be sharing more details with you next week and answering all of your Qs!
🆓Do a Freebie Swap
A freebie swap is when you have someone, who ideally has an audience you'd like to get in front of, email their list about your free opt in, and in exchange, you also email your list about their free opt in. This is a great and low cost way to grow your email list and get people into your sales funnel. I've done this before with Dani Paige and a few other colleagues – it was a mutually beneficial freebie swap and I definitely plan to do more of these in 2023.
To make it easy for you to find someone to do a freebie swap with, here's a little swipe copy you can use:
"Hi everyone! I'm looking for someone who wants to do a "Freebie Swap" with our audiences during *[DATES HERE]*. The way this works is we each agree to email our lists with an email promoting the other person's free offer/lead magnet. The purpose of this is that we each add new ideal audience members to our email list which can lead to more sales:). 🙂
My freebie is *[INSERT FREEBIE NAME HERE]*, and I'm looking to "swap freebies" with someone who has a similar audience as mine: *[INSERT A SHORT DESCRIPTION OF YOUR AUDIENCE]*, and who's email list is *[DESIRED AUDIENCE SIZE HERE]* or bigger. (My audience size is a little over *X* people).
Let me know if you are interested by commenting below or emailing me at *[email protected](.)com*.
—-
I hope you enjoyed this little behind-the-scenes sneak peek of how I'm marketing my own business this year, and that it has inspired you to to find some new ways to market your business using less social media in 2023.